Why grandparents love our Children's Savings Plans
5 Reasons why grandparents love our Children's Tax-Exempt Savings Plan
Published 17th August 2018 - If you're looking to put away regular savings over the long-term to provide a financial gift for your grandchild, our Children's Tax-Exempt Savings Plan could be just what you're looking for.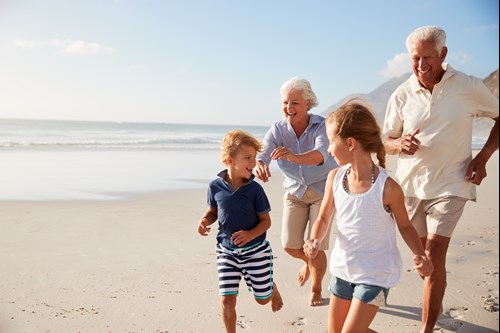 Here are five reasons why grandparents love Children's Tax-Exempt Savings Plans with Unity Mutual.
Low cost
With Unity Mutual's Tax-Exempt Savings Plan you only need to put in £9 per month or £270 annually.
Guaranteed minimum lump sum
Although your money goes into a with profits fund that's invested in bonds, stocks and shares, cash and property, no matter what your investment you will receive a guaranteed minimum lump sum in 10 years' time. Your savings are protected by the Financial Services Compensation Scheme (FSCS) and will be there for your grandchild at the end of the policy term.
Tax-free savings
Unlike other children's savings accounts, you can pay in up to £25 per month or £270 annually into your grandchild's account and still receive a tax-free lump sum at the end of your policy no matter what additional bonuses you have earned during the policy's duration.
The investment performance of the fund will determine what bonuses are added to the plan, however, this cannot be predicted and, therefore, bonuses cannot be guaranteed. Just bear in mind that inflation may also reduce what you could buy in the future with any plan proceeds.  
Money can be taken out
We understand that life can throw some unexpected financial curve balls which is why with Unity's Mutual's Tax-Exempt Savings Plan you are able to take your money out at any time after the first year. You may get less back than what you originally paid in but you'll have the peace of mind knowing that you can access your money at any time.
It is a simple and easy way to save for your grandchild over the long-term
By putting away a small amount of money each month you are able to give your grandchild a financial gift of up to £3,020 plus bonuses (depending on your monthly premium) at the end of the 10 year policy.
This gesture could help towards university fees, a down payment on a house or even buy their first car. Just a small amount can make such a big difference and give your grandchild the financial head start they need.
For more information visit our Children's Tax-Exempt Savings Plan page or call 0161 214 4650 to speak to one of our friendly members of staff.