Meet Donna Rogers…Scaling New Heights for a Charity Close to Our Hearts
Meet Donna Rogers…Scaling New Heights for a Charity Close to Our Hearts
For those living with dementia – there are around 900,000 people in the UK alone – 'everyday' tasks, such as doing the food shop, cooking, and keeping on top of household bills can prove nothing short of daunting.
Making an important phone call might also top the list of overwhelming chores. It's important to the team here at Unity Mutual that our customers receive the support they deserve when they call us to check their balance, chat about interest rates, or discuss anything and everything banking-related in between.
It's why our team have been working with Dementia Friends – an initiative via Alzheimer's Society which aims to change perceptions on how people living with the symptoms are perceived. As part of our collaboration, we've undertaken training, which allows us to spot signs of Dementia in our customers and offer the appropriate support, when needed. 
Abi Jones, Unity Mutual's Head of Sales and Marketing, instigated the Unity Mutual/Dementia Friends partnership and has completed Dementia Friends training as a result. She says: "Essentially, I set up the initiative to demonstrate our commitment to social impact and community engagement, looking to bring positive change for those living with dementia, and showcasing our dedication to meaningful initiatives beyond business interests."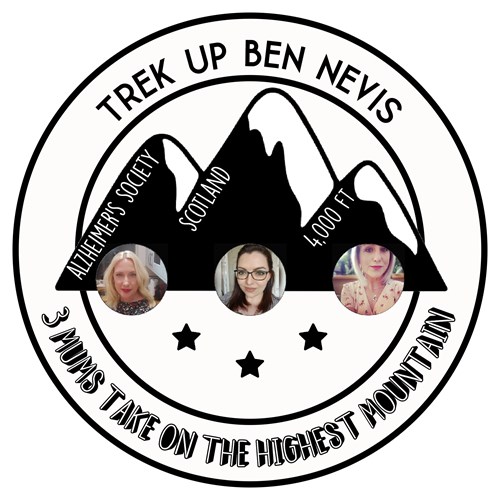 Ben Nevis: All in a Day's Work for Our Donna
One of our colleagues, Donna Rogers, was so moved by the initiative that she and two of her oldest friends decided to take on a charity challenge to raise further funds for Alzheimer's Society.
Alongside Katherine Demir and Emma Harrison, Donna – who's no stranger to taking on gruelling challenges, recently scaled Scotland's Ben Nevis. A cool 4,411 feet above sea level, it's the highest land in any direction for a whopping 459 miles.
Having met Katherine and Emma when their oldest children first started to school, the trio aim to take on a new challenge as often as they have time to, with the next one already on the cards for 'next year or the year after.'
Setting out at 7.30am on 7th July and finally reaching the bottom of the mountain at 2:30pm, Donna and her two pals were thrilled to complete this year's charity challenge.
Donna's taken on similar endurance tests, including the Great North Run in 2017 for Macmillan with Katherine (then again in 2018 when she secured a ballot place) and the Yorkshire Three Peaks, also with Katherine and Emma.
2021: The Yorkshire Peaks…2024: the World?
"In 2021 we did the Yorkshire Three Peaks together," she remembers. "It was hard. We did it for Henshaws, a local charity, based in Knaresborough, as that's where we're based. The day we did it, it was the hottest day of the year…it was crazy hot. I think everyone felt sorry for us."
With sun cream 'melting into their eyes', the trek was good but challenging. Thankfully, it didn't put the three ladies off – and despite this year having a herniated disc following a recent house move, Donna soldiered on to help the group raise vital funds for Alzheimer's Society.
Following the climb, she couldn't stand upright for a week, but she's already thinking ahead to their next challenge.
Of course, setting themselves physical feats such as a mountain climb brings with it a huge sense of personal achievement. For Donna and her friends, it was about raising funds for a charity that continues to raise awareness of Dementia.
"At Unity Mutual too, we feel it's important to have the training we receive from Dementia Friends", says Donna.
Katherine and Emma had their own reasons for completing the walk, owing to the fact their own relatives had battled with the condition.
"As a group, we've raised over £1,500." says Donna, who adds that they had planned to complete the walk as part of one of Alzheimer's Society's own events.
The charity had to pull out just a month after the ladies signed up, though, due to the uptake for the challenge not being as good as expected. "We'd booked a hotel room by then, so we decided to go ahead on our own, as we still wanted to raise money."
So, how did it go?
"When we did the Yorkshire Three Peaks, we'd done a lot of training for it." explains Donna, who adds that, while the group had good intentions to train together this time around, coordinating their busy timetables was nigh on impossible.
Training individually – and not nearly enough – the ladies were apprehensive before they set out on the walk.
Following a six-hour drive from Knaresborough, Donna, Katherine, and Emma began their climb. "The walk itself went really well, but it rained the whole time." says Donna, who says challenges like this are rewarding and rejuvenating in equal measure.
"It pushes us and takes us away from being mum for a bit." she says.
"The first part of the walk was okay," she added, "but when you get up there, you're in the clouds. In our heads we were like: 'we'll get to the top, stop for some lunch and come back down'".
In reality, though, the ladies were soaked. The only thing for it? Head back down as soon as possible and look forward to flopping on the hotel room bed later.
The best bit?
Thanks to starting their walk so early in the day, they were able to motivate those who were on their way up the mountain while the three of them made their welcome descent. "It was quite nice not to be the ones still on the way up," Donna laughs.
On the agenda for next year? Donna's father-in-law sadly lost his life to cancer recently and, in tribute, she'd like to try another challenge with Katherine and Emma, raising vital funds for a cancer-related charity in the process. Watch this space – and a huge pat on the back, Donna, on behalf of the Unity Mutual team. We're all extremely proud of you.
Until next time…
Psst: Want to donate to Donna, Katherine and Emma's Just Giving page? Head here https://www.justgiving.com/fundraising/3mumsbennevis (open until 07/10/23)