Meet the team: Dean Brandreth - New Business Consultant
Published 11th February 2019 - We're pleased to introduce the latest member of the Unity Mutual team, Dean Brandreth.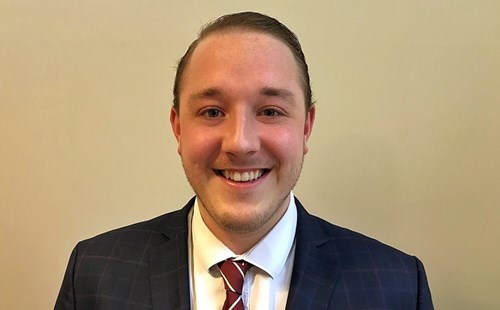 Dean joins us as our New Business Consultant under the Distribution Team. His past experience includes working within financial services and the property industry with a focus on helping people to invest for their futures and building customer relationships.
Welcome Dean! Can you tell us a little bit about yourself?
Hi, I'm Dean from Stockport in Cheshire and in my spare time I enjoy going to the cinema (I'm quite the movie buff!) and spending time with my family. I recently became an Uncle for the first time so I've been busy spoiling my new nephew. I love to go fishing and even had one of my captures featured in Carp-Talk Magazine! I'm also studying towards a certificate in Financial Services at the moment which I'm really enjoying. 
How would your friends and family describe you in three words?
They would say I'm positive, hard-working and funny.
Can you tell us a bit about your new role at Unity Mutual?
My new role is within the Distribution Team and whilst everybody in the team have different roles, we work together to ultimately grow the business using different channels. The main purpose of my role is to build relationships with both new and existing customers and make them aware of the fantastic products we offer since our rebranding to 'Unity Mutual'.
What was it about Unity Mutual that drew you to come work for us?
I've always been drawn to mutuals due to the dedication they have for their members. We're not a corporate and as such have no shareholders so all of our profits go back to our members which is what I love most about Unity Mutual.
What do you think you'll bring to the team?
I'll bring an upbeat attitude to the team along with the drive to help grow our business. I believe that with the right team and dedication, together we can achieve anything we put our minds to!
What is your favourite thing about your new job so far?
I just love speaking to people – getting to know a customer and building that relationship.
What is your biggest achievement so far and what do you hope to achieve at Unity Mutual?
My biggest achievement so far is overcoming my fear of public speaking. The first time I spoke publicly was when I had to present to a network of over 50 Financial Advisors including a Q+A session and I was terrified! Public speaking was never my strong point but my presentation was a huge success and I got lots of great feedback from the audience which gave me so much more confidence. 
At Unity Mutual I hope to offer a great service along with my team-mates and provide useful information about our products to our customers. I'm excited to see what we can do!
Lastly – what is your go-to inspirational career quote?
"Hard work will always bring opportunities." – Karren Brady CBE
If you'd like to speak to Dean about investing in any new products with Unity Mutual give him a call on: 0161 214 4650 or email: dean.brandreth@unitymutual.co.uk.